Pricing
Our Campaign Options
Walking Banner Campaigns are targeted by you, the customer, and are very economical. You decide where your people go with the banners and if they hand out any additional promotional material or discount coupons, all you pay for is the one-time fee for the banners and the rental of the banner backpacks, nothing could be simpler.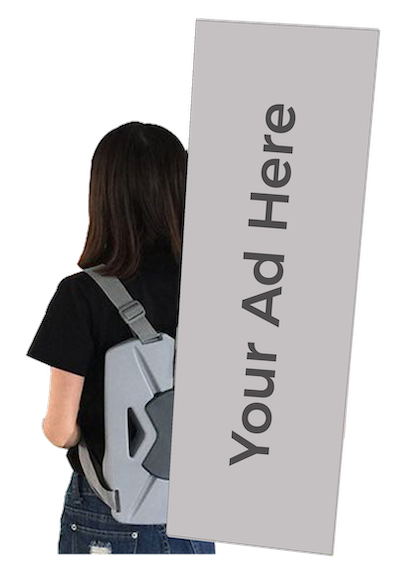 Banners
Production time for banners is normally 2 weeks. Expedited timing is available for an increased price. Please request a quote.
3 – 5 Banners = 75 lari each
6 – 9 Banners = 60 lari each
10 or more Banners = 50 lari each
This is a one-time fee as the banners can be reused. 
Art/design is additional and can be created on request or can be provided by the customer. Please request pricing. The banners belong to the customer and will stay with them after the campaign, only the backpacks are returned to us.
Rental
Backpacks can be rented at a rate of 20 lari per day, 3 piece, 3 day, minimum. Shipping, if needed, is additional. Backpacks must be returned undamaged to Walking Banners. 
FAQ
Frequently Asked Questions
Can I buy the backpacks?
No, backpacks are available only for campaigns and rentals. If a backpack is not returned there will be a surcharge.
Do I have to use Walking Banners to create the artwork for my banner?
No, you can create your own digital file graphics providing that they conform to our specifications.
How much does it cost to design a banner?
The cost for designing a banner depends on the elements involved. It could be quite low for a simple design with a photo and some text or higher if it is more complicated. Please ask for a quote.
If I'm in a hurry can I get the banners produced faster?
Yes, expedited banner production is available. Please request a quote and turnaround.
If I have some promotional material can it be handed out and does that cost more?
Yes, our walkers can distribute your material as they walk around and interact with people. There is no additional charge for this service.
Nino Zhvania 10, #7, Tbilisi, Georgia
+995 557 642 687 (English)
+995 551 513 368 (GeoRgian)
info(at)walkingbannersadvertising(dot)com